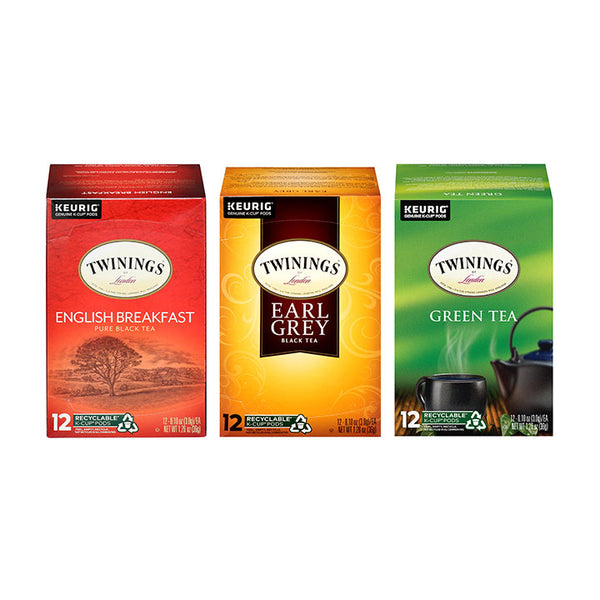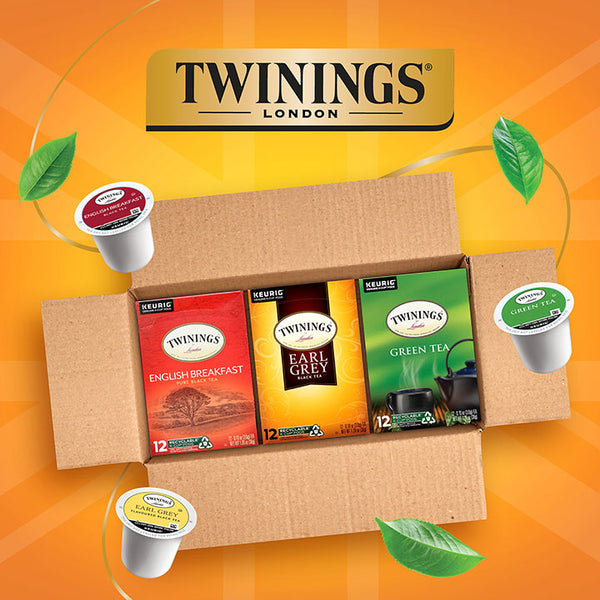 K-Cup® Pods Sampler Variety Pack
DRINK IN LIFE: 
3 boxes of 12 count K-Cup® Pods;
English Breakfast black tea
Earl Grey black tea
Green Tea
All contain caffeine.

TASTING NOTES: 
English Breakfast: 
English Breakfast is our most popular tea. We carefully select the black teas from five different regions, each with its own unique characteristics. Tea from Kenya and Malawi provides the briskness and coppery-red colour while Assam gives full body and flavour. The robustness from these regions is complemented by the softer and more subtle teas from China and Indonesia. The combination of these varieties yields a complex, full-bodied, lively cup of tea that is perfect at any time of day.

Earl Grey: 
Fresh, fragrant and flavoured with distinctive notes of citrus and bergamot.

Green Tea: 
Twinings blends to perfection the finest green teas with just the right amount of flavour to give you a line of great-tasting green teas with a fresh flavour, smooth taste and enticing aroma.

SIP & SAVOUR THE MOMENT: 
Using a Keurig® or single-serve brewer, press the 6-oz. or 8 oz. brew button for optimal flavor.

LIVE WELL + ENJOY LIFE: 
With a signature blend of tradition and innovation, Twinings encourages tea drinkers to "Drink In Life" by taking small steps towards feeling good and living well, one sip at a time.