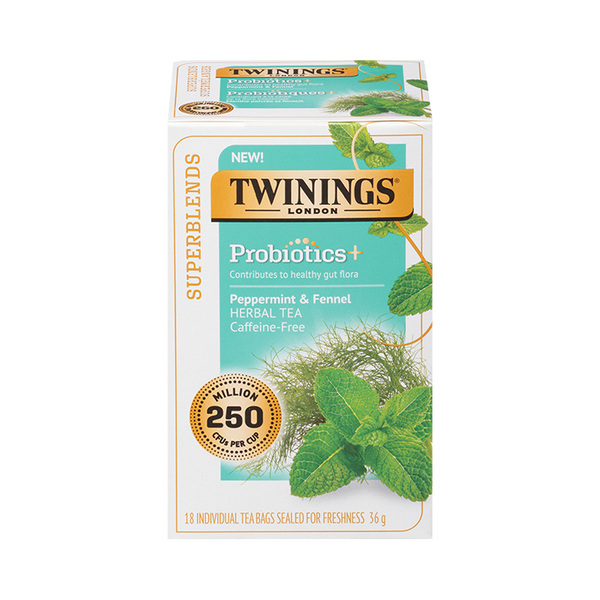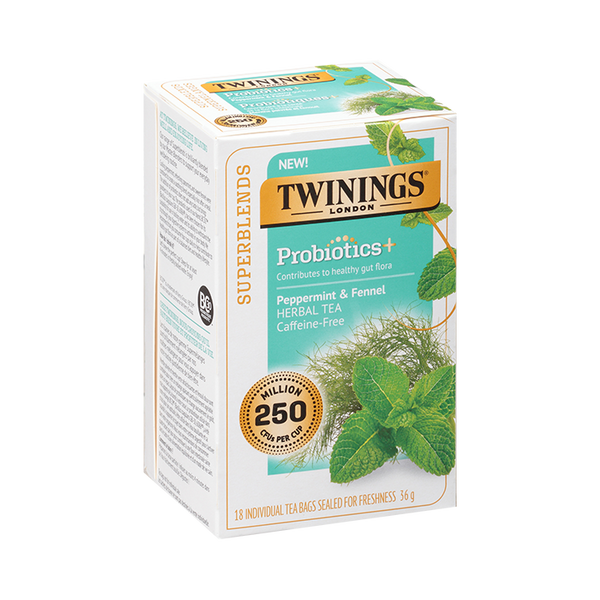 Probiotics - Peppermint & Fennel
Settle your tummy as you sip this herbal tea which contains uplifting mint with delicately sweet fennel and includes a probiotic for extra digestive support.
The taste of cooling peppermint and refreshing spearmint is followed by a slight sweetness from the fennel, creating a soothing blend, especially nice after a meal.
---
More about the ingredients:
Peppermint
The taste of peppermint is refreshing and cooling, perfect anytime but particularly after a meal as it is known to help relieve minor indigestion.

Fennel
Fennel has long been used in traditional Arabian, Ayurvedic and Chinese practices for its ability to help support the digestive system. Its dried seeds have a sweet anise seed flavour. 
Probiotics
The probiotic used in our blend, GanedenBC30®, has been chosen for its suitability for use in boiling water and its ability to withstand the trip through your digestive system to activate in your body. This helps to support your digestive health.
We recommend that you consume four cups per day of our probiotic tea, each brewed for at least four minutes, as part of a balanced diet and healthy lifestyle. We have specially designed and tested our product to ensure that those four cups will deliver to you the 1 billion CFU of probiotics daily that have been shown to help provide effective digestion support.