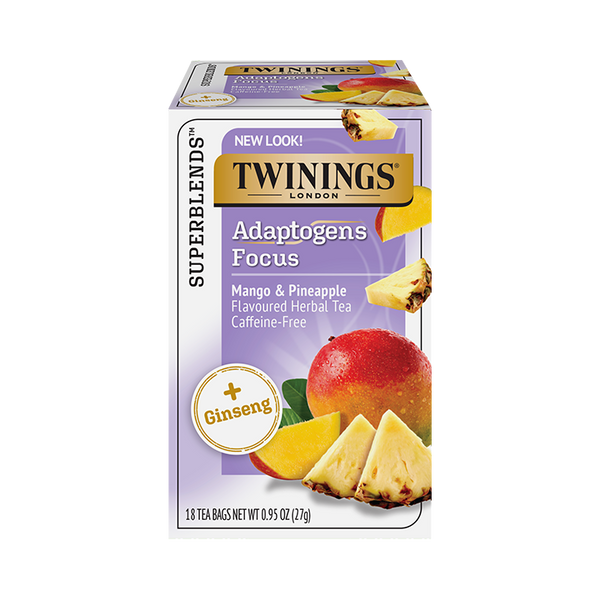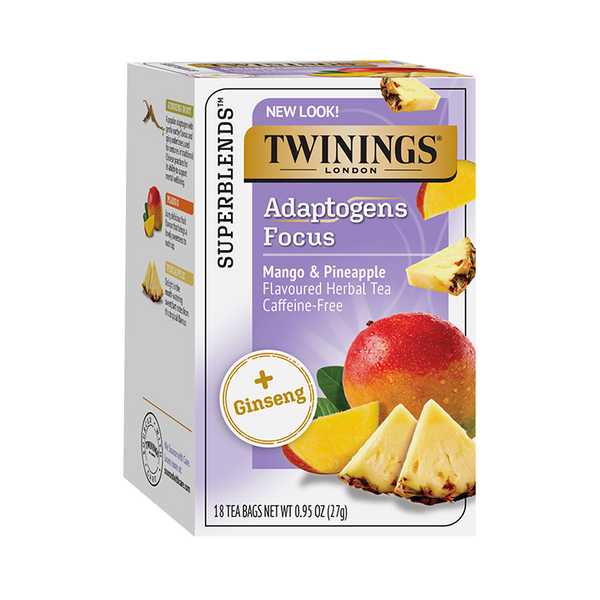 Mango & Pineapple Flavoured Herbal Tea
DRINK IN LIFE:
Our Superblends™ range of teas are carefully crafted for your enjoyment as you take positive steps towards living well, feeling good and enjoying life. Feel alert & on your A-game when you drink this blend, which combines earthy ginseng root with the tropical flavours of sweet mango and tart pineapple. The perfect blend for those times when you need a pick-me-up.
TASTING NOTES:
The tropical flavours of mango and pineapple bring a sweet/tart taste to this blend, while the ginseng root adds a gentle spicy undertone.

ONLY THE FINEST QUALITY:
White Hibiscus, Spearmint, Apple Pieces, Natural Pineapple Flavour with Other natural Flavours, Natural Mango Flavour with Other Natural Flavours, Lemon Peel, Lemon Verbena, Rosehips, Ginseng Root, Natural Flavour (Steviol Glycosides). 
SIP & SAVOUR THE MOMENT:
Let's brew the perfect cup! Steep for at least 4 minutes in freshly boiled water. Enjoy!
SOURCED WITH CARE:
Twinings aims to improve the lives of communities from which we source by improving access to water and sanitation, empowering women and enhancing incomes and resilience
LIVE WELL + ENJOY LIFE:
Brilliantly blended by our Master Blenders to maximize benefits and flavour. Also try our other Superblends teas!