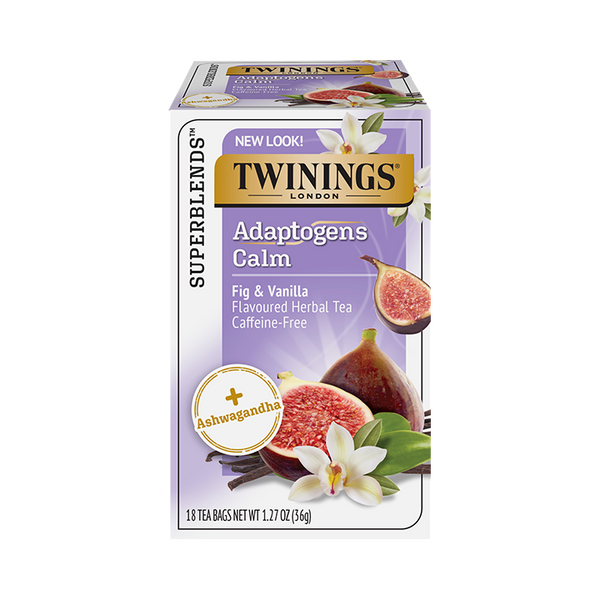 DRINK IN LIFE:
Our Superblends™ range of teas are carefully crafted for your enjoyment as you take positive steps towards living well, feeling good and enjoying life. Want to keep calm? This easy-to-drink wellness tea was crafted to promote a balanced mood so that you can feel your best. An enjoyable drink for your mind, body, and soul.
TASTING NOTES:
Sweet flavour of fig and smooth flavour of vanilla bring a touch of indulgence to this blend, while chicory root and rooibos add a roasted complexity.

ONLY THE FINEST QUALITY:
Rooibos, Chicory Root, Natural Fig Flavour With Other Natural Flavours, Ashwagandha Root, Natural Vanilla Flavour With Other Natural Flavours.
SIP & SAVOUR THE MOMENT:
Let's brew the perfect cup! Steep for at least 4 minutes in freshly boiled water. Enjoy!
SOURCED WITH CARE:
Twinings aims to improve the lives of communities from which we source by improving access to water and sanitation, empowering women and enhancing incomes and resilience
LIVE WELL + ENJOY LIFE:
Brilliantly blended by our Master Blenders to maximize benefits and flavour. Also try our other Superblends teas!