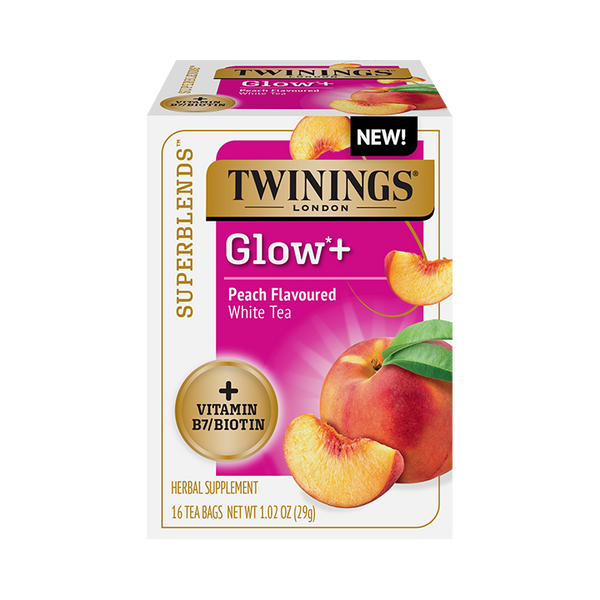 Our Superblends™ range of teas are carefully crafted for your enjoyment as you take positive steps towards living well, feeling good and enjoying life. White tea contains compounds called polyphenols which are considered to be good for your skin.

DRINK IN LIFE:
A box of 16 Glow+ Vitamin B7/Biotin Peach Flavoured White Tea bags.

TASTING NOTES:
We uniquely combined the sweet flavour of peach with white tea for a cup that is sure to be the tastiest part of your beauty regimen. This blend promotes healthy, glowing skin with the addition of Vitamin B7/Biotin, which does not add any taste, but brings goodness to your cup.

ONLY THE FINEST QUALITY:
Organic White Tea Leaf, Organic Honeybush Leaf, Organic Lemongrass (Aerial Parts), Organic Peach Flavour With Other Natural Flavours, Organic Peppermint Leaf, Organic Liquorice Root, Organic Stevia Leaf, Citric Acid, Organic Ginger Root, Organic Natural Flavour, Vitamin B7 (As Biotin).

SIP & SAVOUR THE MOMENT:
Let's brew the perfect cup! Steep for at least 3 minutes in freshly boiled water. Stir, squeeze, and remove bag then enjoy.

SOURCED WITH CARE:
Twinings aims to improve the lives of communities from which we source by improving access to water and sanitation, empowering women and enhancing incomes and resilience.

LIVE WELL + ENJOY LIFE:
Brilliantly blended by our Master Blenders to maximize benefits and flavour. Also try our other Superblends™ teas!
*This statement has not been evaluated by the Food and Drug Administration. This product is not intended to diagnose, treat, cure or prevent any disease. As with any supplement, if you are pregnant or nursing, consult your healthcare provider before using this product.